VIGILANT POWER MONITOR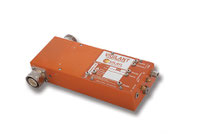 Advanced RF Power Diagnostic for Plasma Processing Applications (digital vi probe)
Benefits
Customized to your application

Plug & Play diagnostics

High power rating
Users
Researchers

R&D engineers

Process engineers

Equipement maintenance engineers

Applications
Study of RF discharges
Development of processing tools
Process control
Troubleshooting of RF systems
The Vigilant Power Monitor tracks the RF power delivery in your plasma processing reactor by complete and accurate of RF parameters (power, voltage, current, phase shift, impedance, harmonics...) with minimum perturbation. This probe can be inserted before or after the matching unit inside your plasma system.
We combine many proprietary innovations to offer what is probably the most advanced RF power diagnostics for plasma applications commercially available today:
- Customizable high performance electrical sensors: wideband, robust, low-perturbation and compact voltage and current sensors developed through extensive experimental work and electromagnetic modeling. The characteristics of these sensors are customized during calibration to maximize performance for your application (maximized sensitivity and power rating while minimizing the perturbation).
- High speed / high resolution cutting edge acquisition electronics with USB connectivity to sample directly and simultaneously the RF voltage and current waveforms.
- Automated highly accurate calibration process to ensure the best measurement accuracy and probe-to-probe repeatability. Our calibration process is NIST-traceable and uses the best electronic test instruments available today in a temperature and EMI controlled environment.
- Powerful and intuitive user interface software (Vigilant RF Lab) to display in real-time the measured data which transforms the PC of the user into a state of the art RF laboratory.
Specifications
Frequency band
RF excitation mode
Max power
Accuracy of power measurement
Max voltage
Max current
Insertion loss
Connections
Size
Software
1-150 MHz (1-500MHz on request)
Single frequency (CW, pulsed, frequency agile)
10 kW
+/- 2% on a matched load at the excitation frequency
5kV (peak)
100A (peak)
<0.5% at the excitation frequency
50Ω coaxial line with customized input & output connectors
90mm x 220mm x 40mm (without connectors)
One Vigilant RF Lab licence
Ordering information
In order to provide you with the best suitable probe for your application, please use the following model numbering:
VPM-FREQ-POWER-IN-OUT                    (Example: VPM-13.56-1000-1F-1M)                     

Code
Details
Values             C: Custom (if not listed)
 FREQ
Excitation frequency in MHz
 2, 3.39, 4, 6.78, 13.56, 27.12, 40.68, 60, 81.36
POWER
Max generator power in Watt
30, 60, 100, 300, 600, 1000, 3000, 6000, 10000

IN

OUT

Input connector type and gender

Output connector type and gender

0: No connector (M5 threaded hole)

    1F: N Female                     1M: N Male      


2F: HN Female                   2M: HN Male

   3F: 7/16 Female                  3M: 7/16 Male

4F: LC Female                    4M: LC Male
Datasheet
Vigilant Power Monitor Datasheet
Advanced digital RF vi probe for plasma processing applications
VPM Datasheet.pdf
Adobe Acrobat Document
2.8 MB