Vigilant RF Lab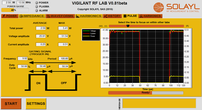 RF Lab Software for Plasma Processing Applications

Vigilant RF Lab is the user interface of the Vigilant Power Monitor.
It transform your PC into a state of the art RF laboratory for advanced studies, process monitoring, and plasma diagnostics.
Review of the Vigilant© RF Lab Software (User interface for the Vigilant© Power Monitor)
We make a quick review of the Vigilant RF Lab software while making measurements with an ICP discharge.
Excitation frequency: 13.56MHz
Gas: Oxygen
Pressure: 30mTorr
Measured Parameters
Power
Dissipated power
Forward power
Reflected power
Pulsed RF

Average & Peak power
Power envelope
Voltage & Current envelope
Voltage & Current
Waveforms
Min, Max, RMS
Peak-to-peak values
Impedance
Module & Phase
Resistance & Reactance
Equivalent circuit
Smith Chart
Harmonics
Harmonic analysis
Datalogging
During pulses
Specifications
Operating systems

USB specifications

Windows XP (SP3), Windows Vista, Win7, Win8
Version 2.0 or 3.0
Datasheet
Vigilant RF Lab Datasheet
RF Lab Software for Plasma Processing Applications
VLA Datasheet.pdf
Adobe Acrobat Document
4.4 MB